Educational Background​
California State University, Sacramento

Master of Science in Counseling, School Counseling

California State University, Sacramento

Bachelors of Arts in Child Development,Concentration in Social and Community Settings
Educational Philosophy​
Empowering academically and economically disadvantaged students to reach high academic accomplishments is what I love to do. My professional and lived experiences have provided me with the familiarity to listen and validate students' stories and barriers. I was born and raised in Greenfield myself and as such, I believe in the true collaborative effort to support our students' drive towards their individual goals. As an agent of change, I work hard and I am committed to ensure that all students' academic, career, personal and social needs are met and addressed and that all students have equal access to educational programs, resources and services.
Counseling Goals​
The program goals of the Mary Chapa counseling program lead to strategic action plan items as a methodology for overall school improvement.
1. Increase students' academic achievement, including the number of students meeting state standards, as well as their motivation to gain a higher education through Tier 1 & 2 classroom lessons, field trips, parent nights, PBIS reward system and other incentives.

2. Provide quality based personal/social development through challenging and engaging educational experiences experiences, opportunities for holistic growth.

3. Actively engage our family, school and community partners through ongoing communication and outreach because we value, respect, and believe we are stronger together in ensuring and advocating for the future success of ALL our students.
Counseling & Leadership Mission​
As school counselors our mission is to support our students, teachers, parents and community in preparing all Mary Chapa students to be successful citizens by providing them with a safe, nurturing and culturally responsive environment that fully prepares students for future college and career success.
Counseling & Leadership Vision
The vision for Mary Chapa's counseling program is to ensure that ALLstudents are well equipped to become life long learners through social-emotional, academic, and college and career preparedness through classroom lessons, presentations and collaboration with teachers, parents and community members.
Fun Facts
I enjoy traveling and learning more about different cultures.

I like to play soccer and exercise on my spare time.

My favorite holiday is Christmas & New Years.

I love the scent of candles and lavender!

My favorite food is Enchiladas Verdes.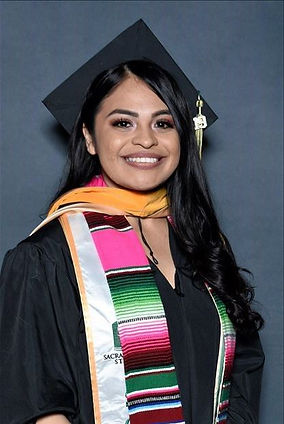 A. Zavala
School Counselor
Show your student/child you care!